« Previous
Next »
(3 hits, 1/1)
1.

Physica B 302-303, 249-256 (2001)

, "Hydrogen-Enhanced Clusterization of Intrinsic Defects and Impurities in Silicon", B. N. Mukashev, Kh. A. Abdullin, Yu. V. Gorelkinskii, M. F. Tamendarov and S. Zh. Tokmoldin

Formation of intrinsic and impurity defect complexes in hydrogenated monocrystalline silicon is studied. Hydrogen was incorporated into samples by different ways: either by proton implantation at 80 and 300 K, or by annealing at 1250°C for 30–60 min in a sealed quartz ampoule containing... (

Read more

)

The behavior of self-interstitials in silicon which was irradiated with light ions (protons and -particles) and electrons was explored by monitoring known impurity interstitial centers (C

i

, Al

i

, (Si-O)

i

) with deep level transient spectroscopy (DLTS) and electron... (

Read more

)

3.

Mater. Res. Soc. Symp. Proc. 46, 227 (1985)

, "Defect Identification in Silicon Using Electron Nuclear Double Redonance", C. A. J. Ammerlaan, M. Sprenger, R. van Kemp, D. A. van Wezep.

The application of electron nuclear double resonance (ENDOR) for identification and characterization of point defects in silicon is reviewed. Taking the vacancy and the boron-vacancy complex as examples it is discussed how ENDOR can provide information on the atomic and electronic structure of paramagnetic centers.
« Previous
Next »
(3 hits, 1/1)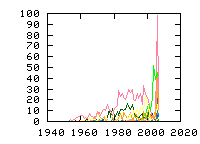 All papers

(3399)
Updated at 2010-07-20 16:50:39