« Previous
Next »
(2 hits, 1/1)
1.

Physica B 308-310, 753-756 (2001)

, "On the problem of the EL2 structure in semi-insulating GaAs: high-frequency ODEPR/ODENDOR measurements in W-band", I. Tkach, K. Krambrock and J. -M. Spaeth

For almost two decades the structure model of the EL2 defect in semi-insulating (SI) GaAs has been controversially discussed. Neither the isolated AsGa with Td symmetry, nor the AsGa–Asi pair model nor any other AsGa-related defect model could be unambiguously established. The reason was that... (

Read more

)

2.

Mater. Res. Soc. Symp. Proc. 46, 227 (1985)

, "Defect Identification in Silicon Using Electron Nuclear Double Redonance", C. A. J. Ammerlaan, M. Sprenger, R. van Kemp, D. A. van Wezep.

The application of electron nuclear double resonance (ENDOR) for identification and characterization of point defects in silicon is reviewed. Taking the vacancy and the boron-vacancy complex as examples it is discussed how ENDOR can provide information on the atomic and electronic structure of paramagnetic centers.
« Previous
Next »
(2 hits, 1/1)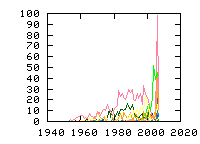 All papers

(3399)
Updated at 2010-07-20 16:50:39