« Previous
Next »
(2 hits, 1/1)
1.

Phys. Rev. B 37, 7268 (1988)

, "Electron-nuclear double resonance of titanium in silicon:

47

Ti and

49

Ti ENDOR", D. A. van Wezep, C. A. J. Ammerlaan

The electron-nuclear double-resonance spectra of interstitial

47

Ti

+

and

49

Ti

+

in silicon have been measured at 4.2 K. Spin Hamiltonians for these systems were determined and had to include hyperfine contributions of the type S

3

I and... (

Read more

)

2.

Mater. Res. Soc. Symp. Proc. 46, 227 (1985)

, "Defect Identification in Silicon Using Electron Nuclear Double Redonance", C. A. J. Ammerlaan, M. Sprenger, R. van Kemp, D. A. van Wezep.

The application of electron nuclear double resonance (ENDOR) for identification and characterization of point defects in silicon is reviewed. Taking the vacancy and the boron-vacancy complex as examples it is discussed how ENDOR can provide information on the atomic and electronic structure of paramagnetic centers.
« Previous
Next »
(2 hits, 1/1)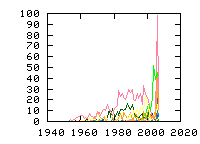 All papers

(3399)
Updated at 2010-07-20 16:50:39