« Previous
Next »
(3 hits, 1/1)
Investigation of the defect formation in heavily doped silicon irradiated by high dose of electrons have led to the discovery of new types of defects /1, 2/. The present note is the next one of this series. A new centre is investigated in p-type silicon irradiated by neutrons. (

Read more

)

2.

Phys. Rev. B 9, 4351-4361 (1974)

, "EPR study of defects in neutron-irradiated silicon: Quenched-in alignment under <110>-uniaxial stress", Young-Hoon Lee and James W. Corbett

The stress effect in an EPR study is first treated rigorously in terms of the piezospectroscopic tensor, taking account of the local symmetry of a defect. It is found that the degree of alignment (n

?

/n

?

) provides incisive information on the structure of a defect; in general, a... (

Read more

)

3.

Radiat. Eff. 15, 77 (1972)

, "New EPR Spectra in Neutron-Irradiated Silicon", Y. H. Lee, Y. M. Kim, J. W. Corbett.

Six new EPR spectra are reported which are apparently due to intrinsic defects created in the neutron-irradiation and, in some cases, annealing of silicon. In addition a spectrum similar to, but distinct from, that due to the vacancy-phosphorus center is reported. Some tentative defect models are discussed to emphasize the features of the spectra, but more detailed studies are required to establish the identity of the giving rise to these spectra.
« Previous
Next »
(3 hits, 1/1)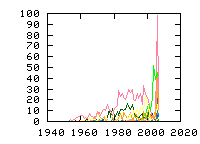 All papers

(3399)
Updated at 2010-07-20 16:50:39