« Previous
Next »
(2 hits, 1/1)
1.

Physica B 340-342, 225-229 (2003)

, "Optical absorption of a Li-related impurity in ZnO", Deirdre Mc Cabe, Karl Johnston, Martin O. Henry, Enda Mc Glynn, Eduardo Alves and J. John Davies

A defect associated with Li in ZnO is reported. This is an optical system which absorbs strongly in the red part of the spectrum: a doublet, the zero phonon lines are at 1.884 and 1.879 eV, respectively. The chemical nature of the centre is identified through isotope substitution. This is the first... (

Read more

)

2.

Mater. Res. Soc. Symp. Proc. 46, 227 (1985)

, "Defect Identification in Silicon Using Electron Nuclear Double Redonance", C. A. J. Ammerlaan, M. Sprenger, R. van Kemp, D. A. van Wezep.

The application of electron nuclear double resonance (ENDOR) for identification and characterization of point defects in silicon is reviewed. Taking the vacancy and the boron-vacancy complex as examples it is discussed how ENDOR can provide information on the atomic and electronic structure of paramagnetic centers.
« Previous
Next »
(2 hits, 1/1)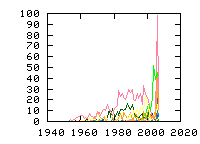 All papers

(3399)
Updated at 2010-07-20 16:50:39