« Previous
Next »
(2 hits, 1/1)
1.

Phys. Rev. B 32, 6571 (1985)

, "Electrical Properties of Dislocations and Point Defects in Plastically Deformed Silicon", P. Omling, E. R. Weber, L. Montelius, H. Alexander, J. Michel.

Energy levels of defect states introduced by plastic deformation of n-type silicon have been studied by capacitance transient spectroscopy. From the observed properties of the defects, it is concluded that two different types of defects are produced. The first type is interpreted as point defects... (

Read more

)

2.

Sov. Phys. JETP 31, 677-679 (1970)

, "Electron Paramagnetic Resonance in Plastically Deformed Silicon", V. A. Grazhulis, Yu. A. Osipyan.

Lightly doped silicon crystals were investigated experimentally by the electron paramagnetic resonance method. Paramagnetic centers, generated during plastic deformation of these crystals, were detected. The concentration of these centers increased monotonically with increasing degree of deformation. The EPR spectrum of these centers was anisotropic and had a partially resolved fine structure. The centers werestrongly annealed only at temperature T ≧ 600ºC and the activation energy of the annealing process was ~2 eV. It was concluded that these centers were due to electrons of broken bonds in the cores of dislocations with edge components.
« Previous
Next »
(2 hits, 1/1)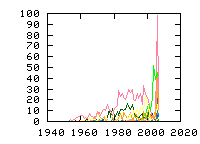 All papers

(3399)
Updated at 2010-07-20 16:50:39